Health Impact Assessment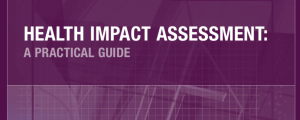 Contributing to the creation of social, economic, and environmental conditions for health and their equitable distribution.  Health impact assessment:
Assesses plans, projects, programs or policies before they are implemented;
Predicts the health and health equity impacts of these proposals; and
Recommends changes to maximise positive health impacts and minimise negative health impacts
About HIA Connect
The HIA Connect website is a resource for health impact assessment (HIA). HIA Connect is intended to support people and organisations within and beyond the health sector to to develop the skills and experience to undertake and commission HIAs.
The site is maintained by and showcases the HIA work of the  UNSW Research Centre for Primary Health Care and Equity's HIAConnect Support Unit. We are based at the  University of New South Wales in Sydney, Australia.
The HIA Connect Unit brings together HIA researchers working in different locations.
UNSW

Latest HIA Reports